PAYING OFF DEBT REQUIRES A PLAN
When it comes to paying what you owe, there are several ways to address the challenge, but all these require a plan, writes Maya Fisher-French.
CREATING A DEBT PRIORITY PLAN
When you have multiple loans, the idea of tackling them may feel overwhelming. The best approach is the way we should take on any challenge – one bite at a time.
By initially targeting a single debt, you have an immediate sense of achievement and motivation to continue. Once your first debt is paid off, those funds can then be used to tackle the next one.
This is known as the snowball effect.
Once complaints investigator Audrey had worked with her husband Michael to consolidate and revise their household budget, the couple had surplus money to tackle their debts.
Her debt repayment plan started with her Mr Price store account, with the aim of settling it by the end of this month.
"I'm tackling this one first because the monthly instalment is between R900 and R1 000. The Woolworths credit card instalment is only R200, so if I settle the higher one first, I will have more money left over to settle the Woolworths credit card."
Once she has settled the Mr Price account, the money she is saving will allow her to settle the Woolworths credit card of R4 500 in full at the end of next month. So her next steps are to tackle her Woolworths and then her Truworths store cards.
"Then I will only have a Game store card, which I will settle in November when I get my thirteenth cheque."
Like Audrey, control environmental officer and mother of two, Nocawe discovered that she and her husband had a budget surplus once they combined their finances to create a household budget.
Using this surplus, they have been able to settle their Game store card in full and increase the payment on their personal loan by R3 000.
Nocawe plans to have the loan fully paid off by October, using the pay-out from a stokvel as well as some funds from her thirteenth cheque.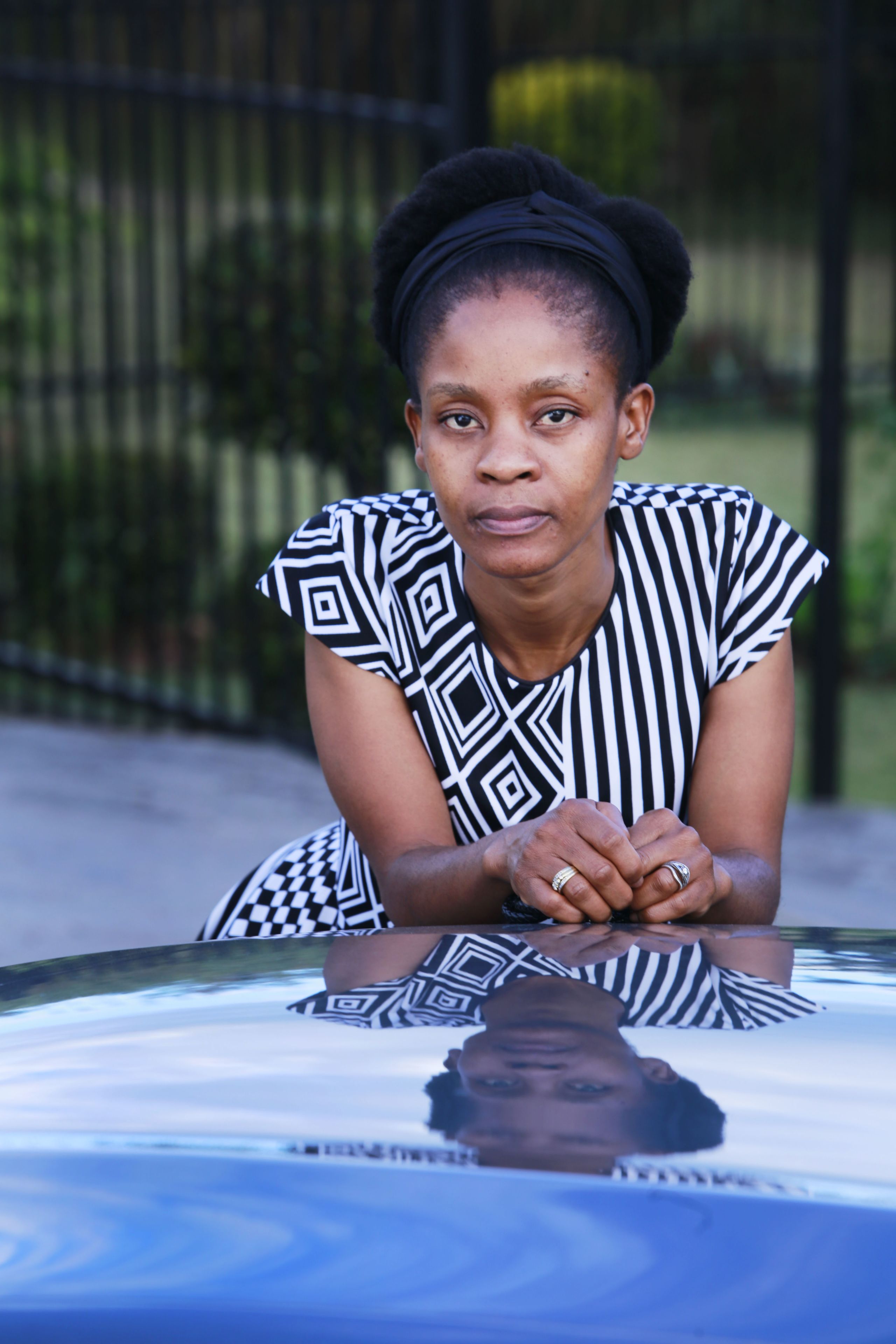 BEWARE THE TRUE COST OF THOSE STORE CARDS
Single mum Maryke was shocked when her adviser Leighanne Decker asked her what the interest rate was on her store cards: "I had never actually looked [at that]. I couldn't believe that it was 17.5%."
Yet that was only part of the cost. When we analysed her Woolworths store card, she was paying R41 in account fees, R56 in interest and R19 in credit insurance. Of her R480 monthly instalment, R117 was going to fees and interest, leaving only R363 to pay the original capital.
"My mum always had store cards, so I thought that was something you just did. I am definitely going to close these once they are paid off."
Maryke plans to pay off her Woolworths and Mr Price accounts by the end of September with the surplus after reviewing her budget.
Decker says: "When we did the budget, there was R2 000 disappearing into 'stuff'. We are using part of this to increase the minimum payments to R500 each so that Maryke is no longer just servicing the debt, but paying it off faster."
PREPARE FOR THE BALLOON PAYMENT
Audrey needs to make provision for the balloon payment on her car, which is due in three years' time. Too often, people are caught out by this unexpected payment that results in either having to sell the car or refinance it. By setting aside R2 500 a month for the next three years, she will have enough to settle the balloon payment and keep the car.
"I want to keep it as a second vehicle and a present for my daughter when she graduates in 2025," she says.
WHEN DEBT CONSOLIDATION WORKS
Newlywed Stephan's financial adviser Zettie Everson immediately identified that he and his wife could benefit from debt consolidation as they had several expensive loans.
They qualified for a single, lower interest loan. As the couple are under a lot of financial pressure, they extended the period of the loan to five years to give them some breathing space.
However, they are planning to pay it off far sooner than that. They are now saving R3 091 in repayments.
"With the savings, they can also pay off debt quickly. The first priority is to get out of debt so they can make ends meet monthly and focus on future savings," says Everson.
The couple has also found a less expensive property to rent, giving them additional savings.
To consolidate debt, you need to have a reasonable credit score, so this is something you should do before you start to default.
DEBT DOMINOES FALL
By moving back home, 30-something Gugu freed up a substantial amount of her income to repay debt. Sticking to a tight budget and focusing on her debt-free goal, she settled her R20 000 personal loan in March and her student loan of R8 000 last month.
She has paid R10 000 into her credit card, which she expects to pay off entirely in the next two months.
"I have an extra R2 000 coming into my account since I paid my personal loan off. This goes towards my credit card payment. Once I pay that off, I will have an extra R1 500 in my budget," says Gugu.
She will then be in a strong position to start working on her next set of goals.
This demonstrates the power of taking control of your money and using it wisely. If you want to be debt-free, you just need a plan and the discipline to stick to it.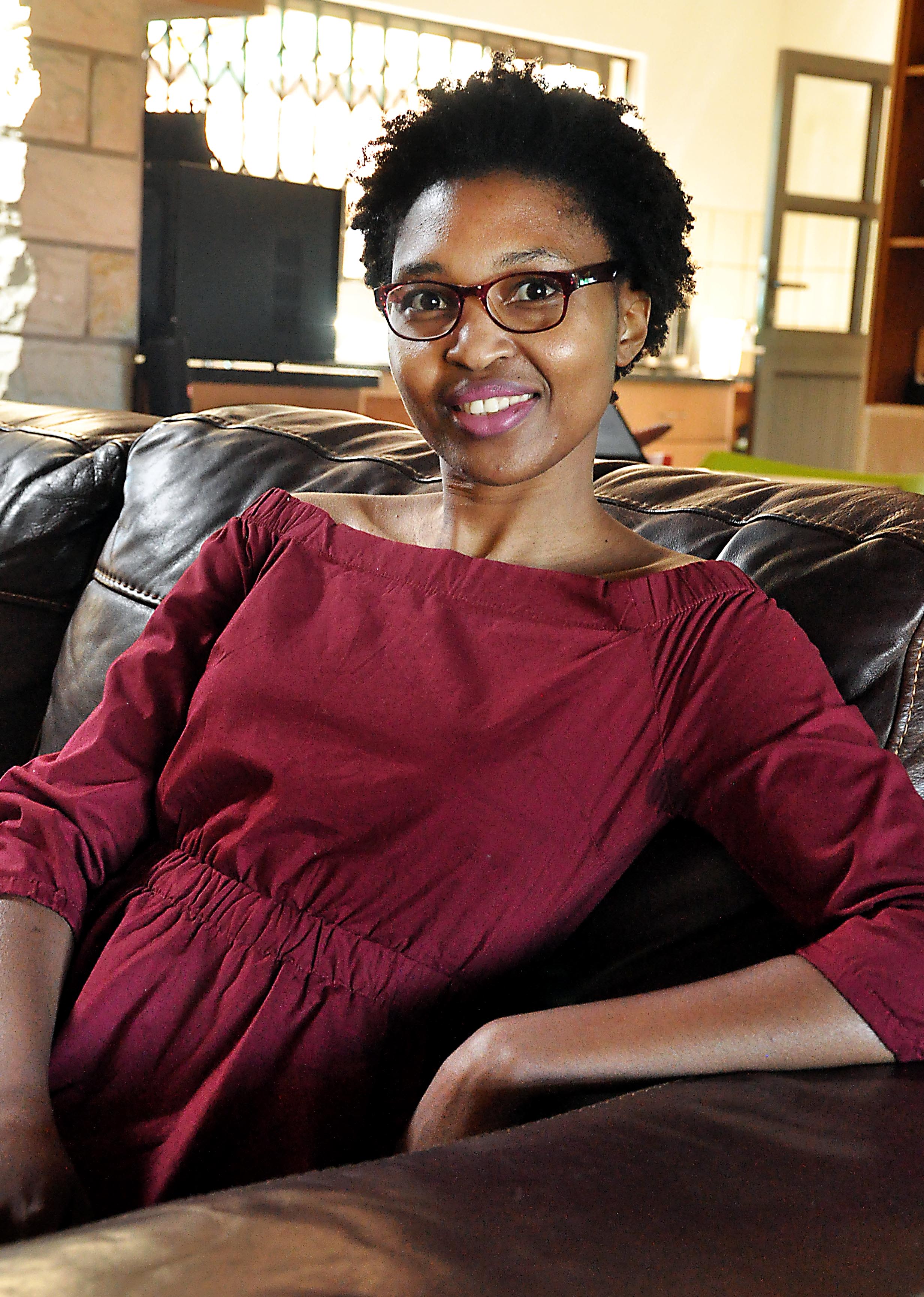 HERE'S AN EXAMPLE OF HOW TO CREATE A DEBT REPAYMENT PLAN: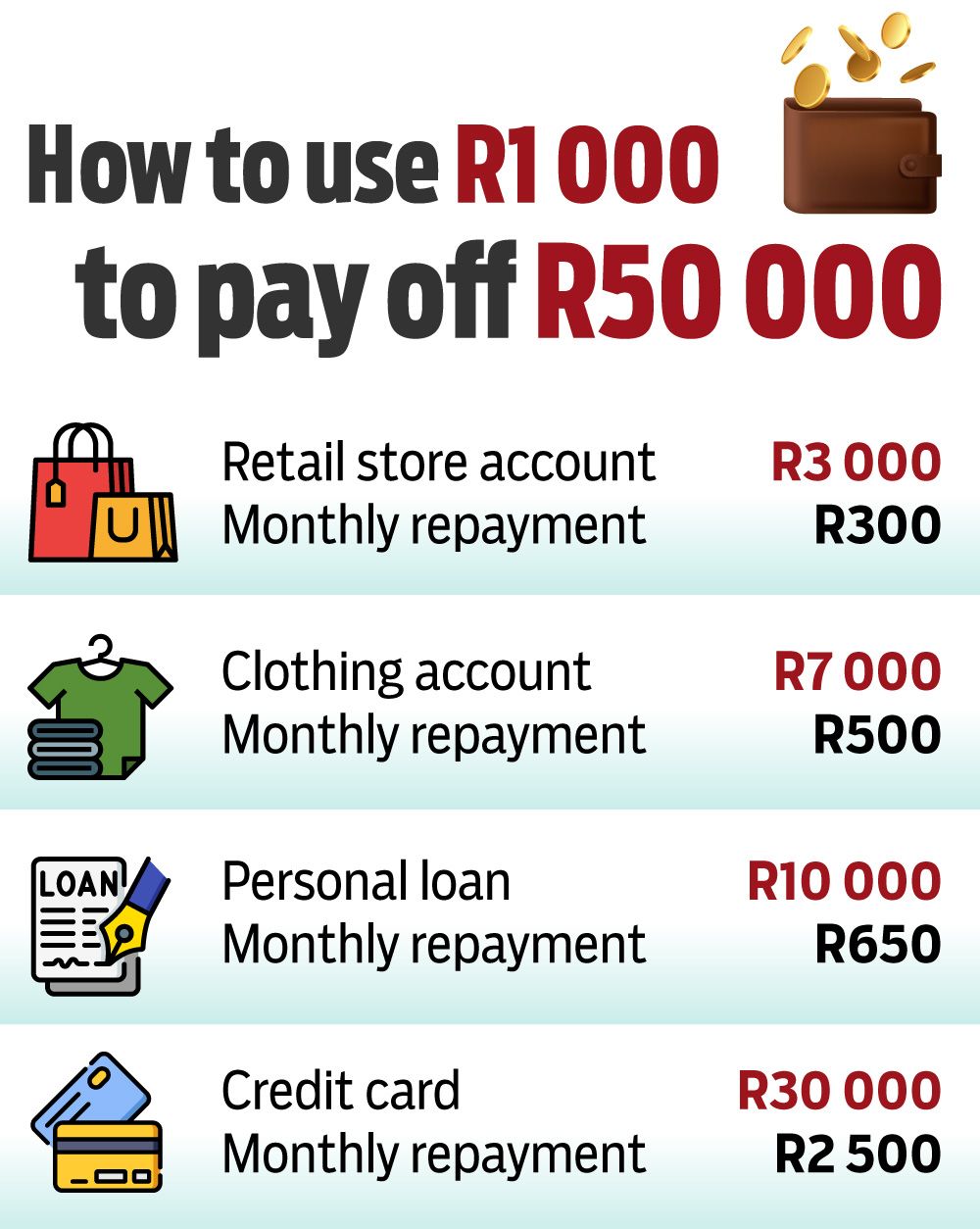 ---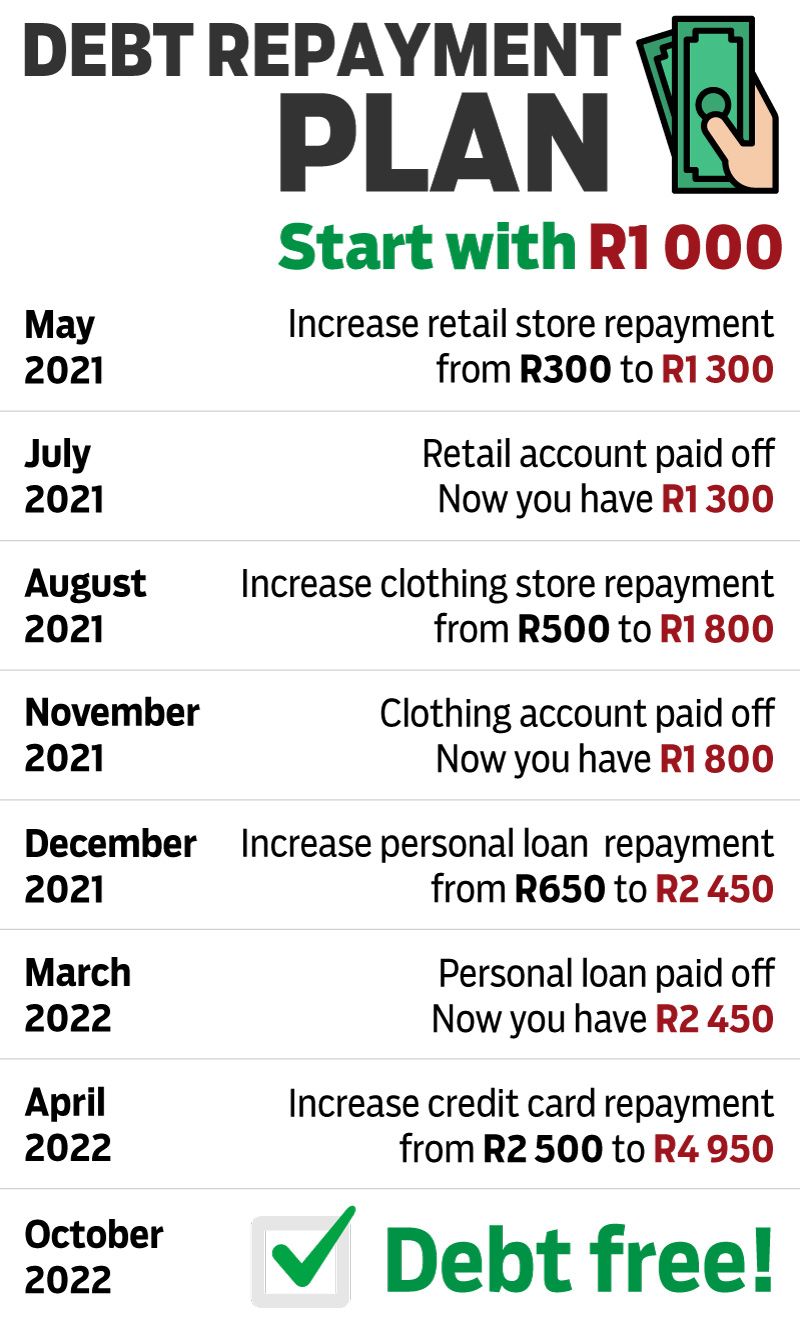 You can follow the story on social media #CPMoneyMakeover

Facebook: @CPMoneyMakeover

Twitter: @CPMoneyMakeover
---
---
Subscribe below for the Money Makeover Newsletter
---